! - - - dawa_right - - ->

revision 5th March, 2002
http://www.greenkiwi.co.nz/footprints/frames/dawa.htm
Having problems printing this page?

he sudden death in October 1997 of Dawa Norbu Sherpa of Kathmandu ends a life richly associated with the Himalaya and the development of tourism and trekking in Nepal.
President of the Nepal Mountaineering Association, and driving force behind the new Mountaineering Museum being established at Pokhara, Dawa was deeply involved in assisting mountaineering expeditions and negotiating on behalf of high altitude Sherpas.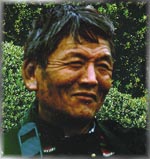 Always a man of initiative and enterprise, he came from a poor Khumjung family in the shadow of Everest. Educated in Darjeeling, he spent some years as an administrative clerk with the British Gurkhas. At that time he met Colonel Jimmy Roberts.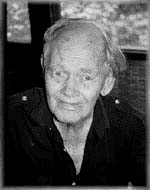 When Roberts left the army and established Mountain Travel he took Dawa as office manager. With others they created the concepts and practicalities which became the modern trekking industry.
Over the years Dawa established the first wholly Sherpa-owned trek company; pioneered tourism into Tibet with his own Arniko company; and as member of the Nepal Tourism Board was instrumental in helping tourism to become Nepal's greatest foreign exchange earner. He was the driving energy behind the little known high altitude clean-up of Everest by Sherpa climbers.
A more recent major entertainment was his development of Asian Airlines. With their importation of the first large Russian helicopters to Nepal 'Dawa's baby' transformed the carriage of freight and passengers into high mountain regions.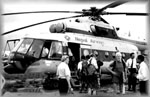 Conscious of his own humble beginnings, he was active in promoting the welfare of Sherpas both on the mountains and in the wider community. Well known in foreign mountaineering circles he entertained, with his wife Yangen many New Zealand mountaineers and trekkers at their home. This hospitality was in part reciprocated during their 1996 visit to New Zealand. At that time, Dawa, never overtly religious, was delighted to meet and talk with the Dalai Lama.
A rare and lovely man he will be sorely missed by his wife Yangen, their two children Doma and Tashi and many friends in Nepal and throughout the world.


Dear Footprints Trekkers,
Many of you will have already heard of Dawa's untimely death on the 27th of October 1997. The above obituary which briefly outlines his public persona has been submitted to the New Zealand Alpine Journal. His private self was, as you all know, much more vivid.
About eight years ago he contracted hepatitis C and almost died. This left him with cirrhosis of the liver and abnormal veins around the base of his stomach that were a permanent risk from disastrous bleeding. He was fine for years but suddenly haemorrhaged and despite the best efforts in Kathmandu this was not able to be stopped. Essentially he died of blood loss. The same scenario occurs in even the most sophisticated medical centres.
Diane and I recently spent quite a lot of time with Dawa and Yangen in Kathmandu. Dawa was well, happy and, as always looking to the future. We spent several happy hours speculating on a 'boys only' jaunt into northern Tibet next year. I find it hard to believe that we shall not make that journey in person together.
Only the week before he died, Japanese TV had completed a half-hour documentary on his life. I'm glad about that; as I am to have known him for thirty years. I know that I shall always remember him as a lively and enterprising companion, an overwhelmingly generous host and a sincere true friend.

John McKinnon

<!- - image map - dawa_bottom- - ->

top of page &nbsp&nbsp site map &nbsp&nbsp <!- - copyright details- ->
Copyright © Footprints Tours Ltd
Programming & design by Green Kiwi Ltd
Last updated:18 Mar 2001