! - - - ff_right - - ->

<!- -flower fields- -> F lower Fields of Annapurna

revision18 Mar 2001
http://www.greenkiwi.co.nz/footprints/frames/ff..htm
Having problems printing this page?



We currently do not have this tour on our scheduled programme.
If you are interested, let us know and we shall look to run this trek in future years.
very year a remarkable transformation occurs to the hills beneath the Himalaya. Bare and dusty after the long dry winter they suddenly become clothed in a lush array of flowers and greenery.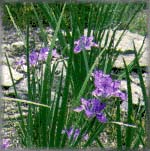 With monsoon moisture and progressive warmth the display changes every few days. Initially iris, then primulas followed by masses of daisies of different types, and poppies, enlivening the whole area with their profuse and colourful display. When I lived and worked in Nepal I was enchanted by this time of botanical burgeoning. Mostly I remember .....a floral parade that changed each week and every few feet of altitude; a magic time of freshness and colour. I have visited Nepal many times since being a resident, sharing my knowledge and love of this marvellous country with trekking clients. Not until recently has it been practical to share the delights of Nepal's summer. In 1998 I shall be making my fifth monsoon trekking trip, this time into the region on the northern side of the Annapurna range. Those who wish can extend their trek into the 'Forbidden Kingdom' of Mustang, a region little visited by any foreigners.


s to visit the Annapurna region during the monsoon season to view the superb display of alpine flowers that abound at that time. We shall fly from Auckland to Kathmandu with two nights in Bangkok to shop and explore. We shall have two days in Kathmandu for final preparations before taking our flight to Ombre in the Annapurna region.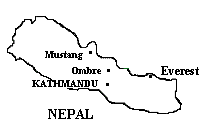 We trek and botanise for 16 days in the region and cross into the Kali Gandaki valley before returning to Kathmandu by flying from Jomsom. There are three nights in Kathmandu and a night in Bangkok on the way home to relax and shop.





imply because it is by far the best time to see the alpine flowers of the Himalaya. With the arrival of the monsoon in mid-June the landscape of Nepal is transformed.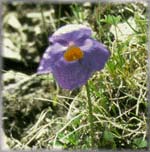 The parched, brown hills suddenly bloom with the iridescent green of new rice and hosts of flowers. This change is particularly dramatic in the mountain regions above 10,000 feet. Fields which only a few days before appeared arid burst with a profusion of plant life...fields of flowers of almost endlessly changing variety.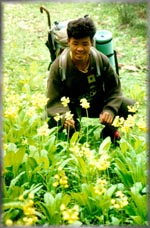 Close to the ground small purple irises, then primulas flowering with the first rhododendrons in late May. Hillsides are dotted with tiny violet vetches, bright yellow cinquefoils and pink orchid-like Roscoea alpina a member of the ginger family; while high meadows are brilliantly hued by yellow buttercups and purple aster daisies; moraines are adorned with the fragile sky-blue poppies; while Edelweiss splashes the slopes with white and Snow Rhododendron R.Nivale with lavender.........magic!
When I lived at Kunde Hospital in the Mount Everest region a source of endless fascination was the annual transformation of the countryside which took place with the advent of the monsoon. During the winter, fields and pasture land around the hospital gradually became more brown and dusty so the entire landscape below the snowline was a symphony of sepia tones. This transformation occurs in all high alpine valleys of the Himalaya.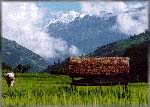 Early in May huge cumulus clouds collect in the south, soaring many thousands of feet into the air their neatly coiffured tops curled and re-curled ....much higher than the mountains. At night cracking displays of lightning play within each cloud as if each was in competition. Initially these are silent displays but as the monsoon slowly advances northwards tremendous rolls of thunder accompany their arrival. So also come the rains but at this altitude the monsoon is never a time of continuous rain. Above 12,000 feet it mostly rains at night with occasional short down bursts during the day and lots of mist. Frequently the mountains disappear for days at a time but the visual compensation for this loss is the profusion of flowers which appear everywhere.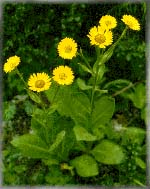 In village fields crops of potatoes, barley and buckwheat start to sprout so grazing animals are shepherded to high pasture for the season. Lush grasses dominate mountain meadows and here villagers camp for the summer months with their herds of yak. Calves scamper and bawl their objection when tethered. Cheese and butter are the main dairy production at this time with a special delight, a most delicious yoghurt. Families live in black tents woven from yak hair or in small rough-stone huts. The whole bucolic scene is marvellously photogenic; unchanged for generations.
It is definitely not a time of constant rain. It is warm in these altitudes, T-shirt and shorts weather in the lower villages with more protection necessary at night and in the high pastures. Quite often it is sunny and at these times the mountains appear in all their grandeur, often girt by huge cloud formations. More commonly, mountain views are intermittent. Scenic delights at this time of the year are generally more myopic, fields and flowers, butterflies and birds. But what a profusion...!
...Then one morning we would find the snow-clouds passed away, and see the great peak of Chumalhari emerging calm, strong, and irresistible from out of the mass of cloud still tossing wildly round its base... and above it lay the calm blue sky, illimitable in its restfulness and light - a sky of bright and liquid azure, through which one seemed able to pierce right into heaven itself.

Sir Francis Younghusband India and Tibet, London 1910

love Himlayan alpine plants but I am certainly an amateur. A specialised excursion like this needs expert interpretation so assisting the group will be W.R (Bill) Sykes a professional botanist and specialist in Himalayan flora.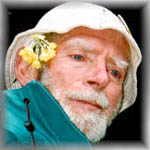 His Himalayan experience dates from the early 1950s when he was a member of two British taxonomic expeditions to central and western Nepal. He has maintained a professional interest in Nepalese flora since that time and in addition, has considerable expedition experience in western China. Bill accompanied my monsoon groups into the Everest region in 1994 and 1995. In 1996 we botanised with a group in Annapurna and Mustang. This year we plan to visit these same haunts.

There are two ways of travelling. One is to cover a long distance in a short time, taking in the general outline of mountain and valley and the most obvious characteristics of the people. The other is to stop, go deeper, strike root to some extent, and try to imbibe from the soil the invisible spiritual sap which nourishes the inhabitants of the place.

Fosco Mairini Secret Tibet, Hutchinson 1952


What else?..birds & butterflies....yetis and yaks!


e are most unlikely to meet a Yeti but according to Sherpa lore we are definitely in the right region to perhaps hear this elusive 'mountain-man' at night! Yaks we will certainly see in plenty. My very favourite beast of burden Bos grunniens, the grunting cow, is everywhere in the high pastures at this season.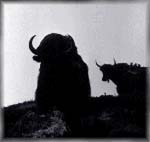 Their formidable horns belie a sweet temperament and their dainty ankles a remarkable agility on mountain slopes. Hares, marmots and pika are smaller mammals that await the patient observer. Fox families are delightful but alas elusive and the magnificent snow leopard is now extremely rare in Nepal.
There are sometimes pheasants to delight the eye; rainbow coloured Impeyan are especially common, with the more sedate Blood Pheasant being heard and seen in birch forest areas. Flocks of Snow Pigeons, Choughs and Crows fly noisily overhead, whilst soaring on updraughts, gliding in graceful curves around the cliffs are the solitary Himalayan Griffon and Lammergeier. These impressive birds can have wingspans of up to 3 metres, greater than the less common Golden Eagle. Nepal is renowned for it's butterflies because of the wide range of altitudes in the country. These ephemeral beauties only appear in the summer at these altitudes where they are found near the highest limits of our trek.


Why helicopters?


he recent advent of large helicopters in Nepal has made flying into the hill regions during the monsoon reliable and safe. Fixed wing aircraft do fly to the Ombre airstrip behind Annapurna but during this time of the year they are less reliable.
Our flight out of the hills will be in a fixed wing aircraft from Jomsom where flying conditions are more stable.
By flying directly into the Neyshang region behind Annapurna we avoid some negative aspects of monsoon trekking especially slippery trails and leeches! (or most of them!)

rom Ombre we walk for a day up the valley of the Marsyandi to the medieval town of Braga. Almost immediately we pass from the pine forest landscape around Ombre to the open valley and fields of flowers below Braga. We shall camp here for several days beside a stream; a chance to acclimatise, botanise adjacent valleys and become familiar with our surroundings.
Immediately to the north the peaks of Pukhung Himal block the way to Tibet while to the south, the mighty ramparts of Annapurna shield us from the monsoon and access to Nepal.
Although our focus is botanical there is much of interest culturally with the spectacularly sited Braga monastery being a special early introduction to Tibetan Buddhist practice. This is one of the most ancient monasteries in Nepal. It's adjacent village gives new meaning to the term 'organic architecture'.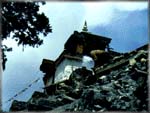 Taking time to acclimatise over several days we climb from Braga to the yak pastures of Tilicho and a large glacial lake. Here is highland Nepal; scattered in the meadows around its shores are the tiny villages and rock houses of local farmers. The locals congregate here for the summer season, to graze their animals, make cheese and enjoy the unaccustomed warmth.
We shall criss-cross cross this Tilicho region to see how variations of altitude alter the micro-climate with each hundred meters of height changing what grows and what's in bloom. On the southern shore are the rock and ice ramparts of Tilicho Peak, Glacier Dome and Gangapurna.
After several days we descend into the upper Marsyandi to recover our energies before heading over the Thorung La (pass), at 5416m our highest point of the trek. This is not a mountaineering route but a long slow uphill grind. We are fit and acclimatised at this stage of the trek so the difficulties, though real enough, should not be too troublesome. We drop steeply down into the valley of the Kali Gandaki and into a very different landscape. We are now geologically through the Himalaya heading towards the rocky, wildly barren hills of Tibet.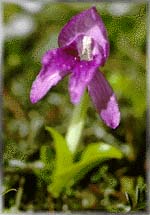 Reflecting their environment, the plant life also changes with dry woody shrubs and low flowering plants predominating. On the lower slopes at the pilgrimage site of Muktinath we shall take a ritual bath (or perhaps a sprinkle) at the 108 holy-water spouts before heading down valley towards Marpha. At 2600m we are in the lowlands and will notice the heat after the rarefied atmosphere of the past two weeks.
Our last few days is spent at Yak Karkha on the slopes below Tukuche Peak. Here we are into territory botanised by 'our Bill' in former years. From nearby Jomsom we fly through the mountains to Pokhara and the welcome luxury of Kathmandu.



How difficult is this trek?


ot difficult at all providing one is reasonably fit. Age is no barrier if heart and lungs are healthy and you have a good attitude towards walking. Walking anywhere, but especially in the hills carrying your own pack is good preparation for Nepalese trekking.
This trek has a botanical focus allowing plenty of time to explore and enjoy the plants and the places. Therefore trek days are not long, with opportunity to meander between camps. I know the Annapurna region very well so have structured the trip to allow plenty of time to acclimatise and rest. This local knowledge allows us to deviate off the main tracks while still on trails that are not intimidating.


What about altitude?


have been taking trekkers to Nepal since 1978 and have never had anyone experience significant difficulties with altitude. The important things are to have gradual ascent, time to adjust, rest days, and someone who can recognise early problems. All these requirements are features of this trek or indeed, any Footprints trip.
People respond differently to altitude however, so on this trek if someone is not acclimatising well, or if someone does not wish to go high I can arrange that they walk back to Kathmandu without crossing the high pass. Trekking at this time enables us to more easily cross the Thorung La pass often obstructed by snow at other times.
......one of the ways to better understanding may lie up ridges, along mountain tracks and through quiet forests, where minds can rest and prepare for action again.

Rewi Alley, 'O Mei Shan' 1977

Why go?

Nepal is there to change you, not for you to change it. Lose yourself in it's essence. Make your footprints with care and awareness of the precarious balance around you. Take souvenirs in you mind and spirit, not in your pockets. Nepal is not only a place on the map, but an experience, a way of life from which we all can learn.
Stephen Bezruchka

We make a conscious effort with all Footprints treks and tours to realise the spirit of Stephen Bezruchka's words. Finally, the best of all reasons to trek in Nepal:



Itineraries & Costs

<!- -links to various itineraries - ->

<! - - land only group- ->

Land only group


hose who wish to travel elsewhere in Asia or travel on to Europe may prefer this option. It includes all accommodation in Kathmandu with breakfast; Kathmandu tours and other activities as for the main group; as well as the trek costs, park and trek fees and local flights.
N.B. If you choose the land-only option please organise your air travel early. Flights to and from Asia are very heavily booked. I am happy to help with suggestions and flight bookings if you wish.
<! - - table land only - ->
Flowerfields of Annapurna
Land Only ex Ktm.
Not currently scheduled
20 day trip
4 nights in Kathmandu
15 days trek in Nepal
about US$ 2200
this was an estimate for 2000
(note: US dollar rate is approx.)
depends on exchange rate

Please note: These prices will be finalised when we schedule this trek. I reserve the right to make changes should major movements occur in currency or airfares.


Main Flowerfields group
<!- - table main group - ->
Flowerfields of Annapurna
Main Group ex NZ
not currently scheduled
24 day trip
4 nights in Kathmandu
3 nights in Bangkok
15 day trek in Nepal
about NZ$ 7500
(note: NZ dollars)
estimate for 2000
ex Auckland, Wellington or Christchurch
Please note: These prices are an estimate for 2000. I reserve the right to make changes should major movements occur in currency or airfares.

<! - - mustang option- ->

Mustang option

Note: The Mustang trek will definitely go ahead in 2000. For a detailed account of this follow the link below.

hen we cross the Thorung La and descend to the Kali Gandaki (black river) we are very close to one of Nepal's most remote kingdoms. Mustang is politically part of Nepal but geographically and culturally it is very much Tibetan. Ruled for centuries by hereditary kings it has retained a way of life little influenced by modern developments.
Those who wish, can extend their trek by 19 days to make a detour through time to this 'Forbidden Kingdom'. For many years access by foreigners was completely impossible. Now it is more easy, but visitor numbers are restricted and there are special fees imposed to lessen the impact of tourism.
For a detailed account of the Mustang part of this trek.
A region of wide open plains and eroded hills it's people have for centuries been grazers and farmers. In summer they take their yaks north into Tibet or cultivate their tiny fields of barley and buckwheat during the brief growing season. Lying on a long established trade route between India and Tibet they enriched themselves with trade and fortified their little towns against envious neighbours.
A visit to Mustang fits well with our Annapurna Flower Fields excursion; we are trekking at the right season for this region, we will be at the gateway to Mustang when we cross the Thorung La and we shall be well acclimatised. More than enough reasons to visit the 'Forbidden Kingdom!'
This is the threshold of the Tibetan plateau, a vast upland formed forty million years ago by the clash of Indian and Central Asian plates, a process that still continues. The flora here will be different from the past several weeks. Although this region is a desert region there is sufficient moisture at this time of year to for flowers to bloom in a landscape already coloured by geologic antiquity. A hundred miles to the west, Webber described it thus.....

On one occasion we crossed another lofty divide, and found ourselves suddenly out on the northern slopes of another watershed........ The foreground was flat, rolling hills and ridges sloping gradually towards the lake, all bare and tinted in the most crude colours - reds and pinks and orange - while hundreds of miles to the north and west in the violet distance there stretched range after range of low, jagged hills, all alike, and succeeding one another in endless succession.


In the Forests of Upper India, Thos.W. Webber, London 1902
<! - - table mustang option- ->
Flowers with Mustang option
Land only ex Ktm
Mustang trek will go ahead
but not the 'Flowers' segment
41 day trip
about US$ 4200

(note: US$ rate is approx)
Flowers with Mustang
ex New Zealand
Mustang trek will go ahead
but not the 'Flowers' segment
43 day trip
about NZ$10,000
(note: NZ$)
Please note: These prices are estimates for 2000. I reserve the right to make changes should major movements occur in currency or airfares.


What do you get...and, what you don't get?
For all groups
Assistance throughout the trek by a specialist in Himalayan flora · A personally guided introduction to some fabulous people and places with me! · 1st class twin-share accommodation in all cities · full breakfasts in Kathmandu and Bangkok · two half day tours in Kathmandu · one half day tour in Bangkok · a celebratory group dinner in Kathmandu · all transportation within Nepal, including flights · all meals while on trek · two person tent accommodation on trek · use of down jacket, sleeping bag, kitbag, 'Thermarest' and padded mat on trek · porters to carry all personal gear · trek permit, visa extension, Annapurna Conservation Area fee · porter insurance · comprehensive group medical kit

The following applies to Main Group only
Return economy airfare from Christchurch, Wellington or Auckland to Nepal · arrival visa in Kathmandu · airport transfers · departure taxes in Bangkok & Kathmandu · baggage handling on arrival and departure in Bangkok & Kathmandu

The following applies to Mustang option
all special permit fees for entry to Mustang
· services of a liaison officer (a Nepalese Government requirement) during the Mustang visit

What you don't get
NZ departure tax · meals unless stipulated · personal insurance and medical expenses · emergency evacuation charges (covered by appropriate medical insurance policy) · excess baggage charges and items of a personal nature


Is it worth it?


believe this trip is excellent value. You are urged to compare the quality and duration of the experience relative to what is offered by other companies. There are no hidden expenses here and a lot of extras that you will not find elsewhere.
I have been visiting Nepal for a long time and know the value of unrushed travel using local guides who are personal friends. There is time on this journey to enjoy some very special parts of the world with someone who knows it well.
I can guarantee experiences that will be treasured for a lifetime.


.....if this one day in the lifetime of a hundred years is lost,
will you ever get your hands on it again?
Eihei Dogen (1200-1253)
<!- - image map - tour_bottom- - ->

If timing for this trip does not suit, please email your wishes and we shall look to provide a similar tour at a later time.
If you would like us to arrange this tour for your own independent group check out what we offer.

top of page&nbsp&nbsp site map&nbsp&nbsp contact us&nbsp&nbsp <!- - copyright details- ->
Copyright © Footprints Tours Ltd
Programming & design by Green Kiwi Ltd
Last updated: 18 Mar 2001