the Art of Western Tibet.

June - July 2011
revision-06jul10
http://www.greenkiwi.co.nz/footprints/frames/ka_art_right.htm
PRINT VERSION
A thousand years ago, a unique culture developed in Western Tibet.
The people decorated temples and caves in celebration of their Buddhist faith,
leaving a heritage of vibrant art to delight visitors from later times.
This tour draws together our wide experience of travel in the remote valleys
of the Tibetan plateau and our longstanding interest in Tibetan art.
If you are a traveller with a sense of adventure and an interest in art,
this is an escorted tour which will inform, delight and entertain you.
We run this tour every few years. It is a special tour to an exceptional region.
The General Plan


estern Tibet is remote, with its cave-temples difficult to access both geographically and politically. We have travelled in the area seven times. This experience and our contacts in the region will be useful in overcoming the inevitable hardships of travel on the Tibetan plateau and dilemmas of dealing with authorities little used to dealing with foreigners who desire to move 'outside the square'. The tour is designed to give the best possible experience of the region, so that in most places we spend more than a single day.
The Art of Western Tibet:
The tour will be escorted throughout by John McKinnon who has a long association with Nepal and Tibet and a personal interest in the art of the region. Our timetable is influenced by our most recent travel to the region.. During previous tours we visited many sites rarely frequented by travellers to Tibet. In 2011 we plan to do the following:
commence the tour in Kathmandu
fly to western Nepal, then walk six days to the Tibetan border
visit the lake Manasarovar
walk for four days around the holy Mt. Kailas
visit the hotsprings of Tirthapuri
visit the 'Bon' cave-temple of Guru-gem
visit the abandoned 'thousand-caves' of Khyun-lung
visit the famed painted cities of Tholing and Tsaparang
visit the recently re-discovered painted cave-cities of Dungkar and Piyang
visit the cave temples first discovered by our group in 2002 [Shang-ba area]
explore the Shangtze gompa [re-discovered by our group in 2002]
hopefully explore untravelled regions further west
drive across the remote Aksai Chin plateau to Kashgar on the borders of the Taklamakan desert

an Ancient religion and Ancient Kingdom


he original religion in the area is thought to have been shamanism, a method of divination that sought to control the spirits of land and nature.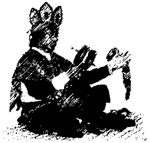 Through gradual evolution, shamanistic beliefs became more codified, allowing Tibet's most ancient religion Bon to develop. Under the guidance of Bon priests the rulers of this kingdom Shang Shung established a flourishing ancient civilisation. The dwellers built an large network of temples, forts, villages and tombs. This great construction occurred in what is now mostly wilderness. The descendents of Shang Shung are the drokpa, yak and sheep herders, who wander the great empty ranges of western Tibet.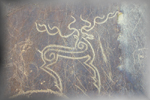 Shang Shung flourished until circa 1300 years ago [ca 700CE], when the deteriorating climate, and cultural and religious changes in Tibet led to its demise. Near the Bon gompa of Guru-gem are the walls of its last capital, the 'Silver Castle of Khyung-lung'. When we visited in 2002 we found glass beads from thse ancient times lying in the sands!

Caves and Temples


or at least three thousand years, and possible much longer, inhabitants of western Tibet have lived in caves. In most of the region, there was little timber for more conventional dwellings and in many places the composition of river-cliffs allowed easy excavation. For the most part these cave dwellings, were probably not permanent habitations, but a temporary place of refuge from extremes of climate and marauding neighbours.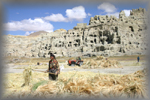 When Buddhist missionaries from present-day Kashmir and Ladakh, entered the region about 600ce, they came into direct conflict with practitioners of Bon. Both religions were forced to adapt. The Buddhists adopted many tantric practices of Bon and evolved towards the various schools of Tibetan Buddhism. Bon in turn, acquired many features of this new religion from India.
At this time, the Buddhists already had a well developed artistic style and an ancient heritage of monasticism.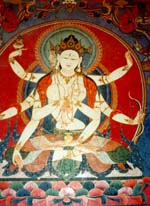 In the deep river valleys of western Tibet the construction of monasteries was inhibited by the absence of forests so these early monastics carved into the mountains to create underground monasteries and temples.
Stimulated by royal patronage, artists came from Kashmir and Nepal. Over several centuries, with the assistance of local craftsmen, they painted caves and temples and fashioned statues that ultimately expressed a unique artistic style, known as Gu-ge.
A thousand years later, the caves, the art and many temples still remain. Despite ravages of time and the insanity of the Cultural Revolution the joy and vigour of this art is palpable, a delight to the eye and to the heart. Thus art weaves a spiritual tapestry throughout this land.
This is a tour to connect with this art and to the spirit of the individuals who gave it life.

WHAT ELSE?


n the far west of Tibet thirty miles from the Nepalese border stands a solitary mountain revered by Tibetans and Hindus as 'The Navel of the World'. To visit this remote, spiritually-charged region is a remarkable experience, demanding and immensly rewarding. On this 'art' tour, we trek around Kailas and do a great deal more than visit 'painted temples'. To get a sense of the incredible history of this region and what else is involved in the tour, read our 'Kailas' page.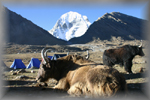 the ART of SPECIFIC SITES:

ach site which we plan to visit has its own particular style.
Gu-ge: Tholing and Tsaparang
The the ancient Kingdom of Gu-ge gave its name to the region. The most well known and well described artistic sites are the temples of Tholing and Tsaparang. Deriving their heritage from Kashmir, the artists here set standards characterised by a clear and lyrical graphic form with vivid colouration arguably unmatched anywhere. Scholars debate whether the main paintings date from the 13th or from the 15th century.

Devoid of any Chinese influence the bejeweled figures, trees and floral designs of the Tsaparang murals are more free than similar Nepalese-Newari work. The figures are less stiff and more naturalistic, with greater variety of posture and activity than Newari work in central Tibet. Many panels have a non-religious theme with animals and humans, dancers and singers, foreign and local, going about everyday or ceremonial lives.
The luminous colours, sensuous small-waisted figures and wondrous costumes all have taken origin from Kashmiri styles to develop their own character. Faces are often depicted in half-profile and are less full than typical Tibetan works with shading and a sense of relief being notable features. Paintings flanking a statue are directly complementary to the image with the panels full of intensely detailed, brightly coloured figures.

Dungkar & Piyang:
Even greater assocation with the cave temples of Xingjiang are found at Dungkar and Piyang. This extensive cave complex was thought byTucci, in 1935, to contain the finest paintings in the region. The overall blue colouration and the extensive use of flying apsaras ['angels'] clad in diaphanous gowns is very reminiscent of caves at Dunhuang. The Dungkar and Piyang caves are possibly the earliest Gu-ge murals in the region.


the caves of SHANG-BA:
Quite by chance, during our tour in 2002 we discovered three caves which had never been described in the western literature. To say that this was exciting is a huge understatment! We had stumbled on two highly decorated caves and another that could be be best described as 'work in progress'. Two caves were readily accessible with a minor scramble. The other was 10metres up a vertical cliff, requiring the use of a rickety ladder and a good head for heights.


Shangtze:
During our tour in 2002 and again in 2006 we arranged permission to visit the Shang Chu valley a region which had not been visited by foreigners since 1933. At that time Guiseppi Tucci, the great Italian Tibetologist, travelled through the western regions. Tucci spoke and wrote fluent Tibetan. He had an intense interest in Tibetan art, describing and photographing the most important gompas and caves. It was Tucci's account that led me to visit Shangtze. Tucci had this to say about that gompa:

A castle crowns with its ruins the steep hill on the other bank of the river, exactly in front of our camp; its proportions are immense... we are in the royal sacristy condemned like the rest to inevitable ruin. The walls are covered with frescoes of the sixteenth century... the details and ornamentation, were executed with admirable accuracy and grace. .... These frescoes belong to the period of greatest brilliancy in the art of Guge, and represent the point reached in a long tradition, the origins of which go back to those Indian masters whom the first kings of Western Tibet brought into their country.
Tucci,G. & Ghersi E; Secrets of Tibet, 1934

As the first western visitors for almost seventy years we were a surprise to the locals of Shangtze. They clustered around our vehicles to get a view. Towering several hundred metres above the small river are the ruins described by Tucci. The region must have once been much more populated. Crumbling rock walls of forts, houses and gompas are peppered with gaping holes of ancient cave-homes. A huge labour was required to make this hillside town. Now, the heights are deserted and the reduced inheritors of this grandeur, two hundred or so, live in simple houses below.

We had little expectation that the gompa would contain the glories described by Tucci. The Cultural Revolution had not spared this region despite its isolation. When we climbed to the gompa first impressions were disappointing. Timbers had been removed from the roof so the main chamber lay exposed to the sky. On closer examination ghostly remnants of the frescoes covered the walls but so faded to be almost invisible.

There was however one chamber with its roof and murals intact. Here in good condition and glorious colour were the frescoes which so enthralled Tucci. Wonderful!





the Greatest art of Western Tibet:
It colours no cave wall and is not contained within any gompa: the greatest of all Tibetan art lies open. It is the great land and sky-scape of the Tibetan plateau. Here at altitudes where oxgen molecules are as scarce as orchids, sky and land appear to merge. It feels just possible to walk off this wide and silent land right into the sky - past warmth and life - into the infinite. Into a sky of such a blue that at its zenith its purest lapiz and at the base, the purest turquoise. It is said that Rilke defined endless variations of the colour blue by studying the paintings of Cezanne. What would he have said of this blue that comes from infinity?

Travellers in western Tibet talk about the light. It is indeed extraordinary: a clearing magic which allows you to look down on mountains one hundred kilometres distant as if you could amble to the snows in just an hour. Hills of lemon-green and ballerina-pink lie alongside a jumbled slope of hokey-pokey trickling down the mountain. And, if you chance it right, hillsides become vistas of burnished silver, air-brushed with golden tussock and the high plains shimmer and merge into the snows of the Indian Himalaya.

This conjunction of sky and land is immensely variable. And it comes with a climate which is refreshingly immediate. At one instant you occupy dense cloud and seconds later luxuriate in a shaft of sun - while a hillside, just one kilometre away, is drenched with rain or snow.


What is trekking?


n 1965 Colonel Jimmy Roberts introduce the world to trekking. A former Gurkha Officer, Military Attache at the British Embassy in Kathmandu and logistic advisor to many expeditions he had spent years of his life walking the hills of Nepal. His idea, revolutionary for the time, was to provide tents together with Sherpas, to guide and cook. This made Nepal and the Himalaya available to a wide community and was an immediate success.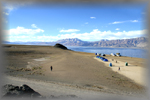 Nowadays the formula is well established; groups travel through the hills, walking for five to six hours each day with all their equipment carried by porters; good quality meals are provided along with warm sleeping bags and comfortable tents; the trekker carries a personal pack with camera, day clothing and snacks. Walking for days on end might sound daunting, but actually it is not too difficult, anyone who has tramped the New Zealand hills with their own pack will find Nepalese trekking much easier, and more stylish! This Footprints trek in Nepal and Tibet should not be underestimated. It is hard, but should not prove difficult to fit individuals. It is essential however that you are fit and that you have a good set of lungs and strong heart!

For long miles into the heart of morning,
Miles and miles, far over land and sea,
Past enchanted regions of forewarning,
Dawns at last the land that dims all these.
Jimmy Roberts

How Difficult is this Trek?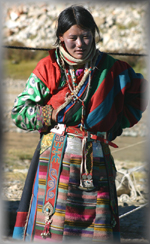 The walking in itself is not particularly difficult. The main problem is adaptation to altitude. For the most part, the days are not long, usually five to six hours of walking, starting and finishing early with lots of time for rests and lunch. However, as you walk up a seemingly endless hill there is opportunity to reflect on Lord Buddha's first noble truth, that suffering exists! Apart from fitness, the most important attribute is right attitude. In addition to the two main walking segments, there will be opportunities to walk off or along the road. These road-walks are through spectacular terrain with scanty to non-existant vehicular traffic. In the far west we have identified several day walks which rate amongst the most special of any walk we have ever done: we mean it!
There are two main trekking segments as follows:
Trek Difficulty

Trek Segment

Trek Difficulty

Altitude

Simikot to Tibet:
moderate
2900 - 4580m
(9,500 - 15,000 feet)
mostly around 3,000m
with two days above 4,300m

Around Mt Kailas:
moderate to difficult
4600 - 5670m
(15,000 - 18,500 feet)
mostly around 4,800m
with two days above 5,000m

Being fit for the trek is essential. Without a good level of tramping fitness it would be not only painful, but foolish to embark on this expedition. Each day on the trek you will carry only a day-pack and yourself. How well you prepare each of these is definitely a personal matter. This Footprints trek in Nepal and Tibet should not be underestimated. It is hard, but should not prove difficult to fit individuals. It is essential however that you are fit , that you have a good set of lungs and posess a strong heart!


What about Altitude?
This is much more difficult to assess. Adaptation to altitude depends very much on the speed at which altitude is reached. It has little relationship to fitness and no relationship to age. At altitude I have seen many examples of fit 70 year olds out-performing youngsters less than half their age.
If you have previously trekked to altitude, and your ascent at that time was gradual, your experiences on this trek are likely to be similar. If you have had a bad experience you have to question whether your approach was sufficiently gradual or whether you might be a person who just does not do well at rarefied heights. If you have qualms or queries about this, I am happy to discuss it with you.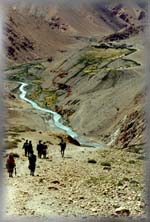 I have been taking trekkers to Nepal since 1978 and have never had anyone seriously ill with altitude. The important things are to have gradual ascent, time to adjust, rest days, and someone who can recognise early problems. All these requirements are features of this tour or indeed, any Footprints trip. We have structured this trip to be gradual. The tour is longer than offerings by other companies to allow time for rest days and acclimatization. During our previous Kailas treks no member of the group experienced other than minor altitude symptoms.
People respond differently to altitude however, so on this trek if someone is not acclimatizing well we shall try to arrange alternatives.


How Many people will go on this trek?
The minimum client numbers for this trip is 4, maximum 12.


What other information will you send me?

After registration I shall send you masses of pre-trek information including; a daily trek itinerary; detailed information about what you need to prepare and bring for this trek; a suggested reading list; information relating to health issues and vaccinations.

How do we travel in Tibet?
Our travel in Tibet is by modern 4 wheel drive vehicles. As all petrol, food and camping gear has to be brought by truck from Kathmandu or Lhasa it is ideal to have several 4wds accompanied by one truck. Our Nepal Sherpas will accompany us into Tibet to provide trek and camping assistance.


What about the weather?
We shall be traveling one of the preferred times for Tibet. April-May is before the rainy season. Roads are open and the weather is likely to be most stable with clear skies and cold nights.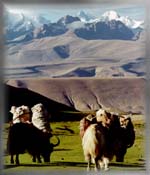 ...Then one morning we would find the snow-clouds passed away, and see the great peak of Chumalhari emerging calm, strong, and irresistible from out of the mass of cloud still tossing wildly round its base... and above it lay the calm blue sky, illimitable in its restfulness and light - a sky of bright and liquid azure, through which one seemed able to pierce right into heaven itself.
Sir Francis Younghusband
India and Tibet, London 1910

In Tibet however, as in any mountain region, rain and snow showers can occur at any season. By contrast, the lower regions of Nepal will be hot and humid with daily rain showers interspersed with brilliant sunshine.
Next day there was humid sun and shifting southern skies, but to the north a deep tumult of swirling greys was all that could be seen of the Himalaya. ...Then four miles above these mud streets of the lowlands, at a point so high as to seem overhead, a luminous whiteness shone - the light of snows. Glaciers loomed and vanished in the greys, and the sky parted, and the snow cone of Machhapuchare glistened like a spire of a higher kingdom.
The Snow Leopard, Peter Matthiessen




ITINERARIES & PRICES:


e have all the preparations in hand to make this tour happen. Final prices will be available late 2010.
Main group


The Art of Western Tibet: Main Group ex New Zealand 2011
Main Group ex NZ
Wed 08 June to Sun 17 July 2011 Auckland to Auckland
40 day trip
2nights in Kathmandu
2nights in Bangkok
7 day trek in Nepal
21 days in Tibet
4 day trek around Mt Kailas
2 nights at the pilgrim-hot-springs Tirthapuri
2 nights at the deserted cave-city of Khyun-lung
6 day jeep trip to Tholing & Tsaparang & far west Tibet
6 day Landcruiser tour across the Aksai Chin plateau to Kashgar
2 nights in Kashgar
1 nights in Urumchi
flights: Kashgar/Urumchi/Shanghai

[Note: We request that New Zealand clients pay for the tour
in US dollars except for the international airfare]


estimated price for >6- 9 clients

The price for 2011 will not be available until late 2010]

International fares: ex Auckland to Nepal via Bangkok
and return from China via Bangkok

Please note: Prices for the tour in 2011 will depend on the exchange rate at the time.

We urge anyone contemplating a trip of this nature to compare what is on offer from other companies. In particular look at where the tour will go; who the guide will be; and how long is spent in each place. Not many people make repeated journeys to western Tibet. If you are going to get a quality experience you need to be sure what you are buying. This tour offers rare quality.



Land only group
hose who wish to travel elsewhere in Asia or travel on to Europe may prefer this option. It includes all accommodation, meals, tours and other activities as for the main group from Kathmandu to Shanghai.
[Note: It is possible to leave the group elsewhere in China than Shanghai. Please let us know your requirements.]
N.B. If you choose the land-only option please organise your air travel early. Flights to and from Asia are very heavily booked. I am happy to help with suggestions and flight bookings if you wish.


The Art of Western Tibet: Land Only Group 2011 Kailas, to the navel of the world
Land Only
Thu 09 June (Kathmandu) - Fri 15 July (Shanghai)
36 day trip
2nights in Kathmandu
7 day trek in Nepal
21 days in Tibet
4 day trek around Mt Kailas
2 nights at the pilgrim-hot-springs Tirthapuri
2 nights at the deserted cave-city of Khyun-lung
6 day jeep trip to Tholing & Tsaparang & far west Tibet
6 day Landcruiser tour across the Aksai Chin plateau to Kashgar
2 nights in Kashgar
1 nights in Urumchi
flights: Kashgar/Urumchi/Shanghai

[Note: we require payment in US dollars]


estimated price for >6- 9 clients

The price for 2011 will not be available until late 2010]




Please note: Prices for the tour in 2011 will depend on the exchange rate at the time.

We urge anyone contemplating a trip of this nature to compare what is on offer from other companies. In particular look at where the tour will go; who the guide will be; and how long is spent in each place. Not many people make repeated journeys to western Tibet. If you are going to get a quality experience you need to be sure what you are buying. This tour offers quality.

What shall we tell you? Tales, marvellous tales, Of ships and stars and isles where good men rest,
Where nevermore the rose of sunset pales, And winds and shadows fall toward the west.
The Golden Journey to Samarkand
James Elroy Flecker

<!- -get what?- - >

the Art of Western Tibet:, What do you get...and, what you don't get?
For all groups
A personally guided introduction to some fabulous people and places with John McKinnon · 1st class twin-share accommodation in all cities · full breakfasts in Kathmandu and Bangkok and in China· two half day tours in Kathmandu · a celebratory group dinner in Kathmandu · all transportation within Tibet and Nepal including flights · Tibet visa and all regional permits · all services and costs relating to liaison officer in Nepal and Tibet · all transportation, food and travel costs while on tour.


The following applies to Main Group only
Return economy airfare from Christchurch, Wellington or Auckland· arrival visa in Kathmandu · airport transfers · departure taxes in Bangkok & China· baggage handling on arrival and departure in Bangkok, Kathmandu & China


The following applies to Lhasa option
· 'best available' hotel accommodation with all meals between western Tibet and Lhasa · entrance fees to monasteries en route to Lhasa · bed/breakfast accommodation at 'Shambala hotel', Lhasa· flight Lhasa/Kathmandu · airport transfers in Lhasa and Kathmandu . all trek and regional permits for this section of the tour.



What you don't get
NZ departure tax · meals unless stipulated · personal insurance and medical expenses · emergency evacuation charges (covered by appropriate medical insurance policy) · excess baggage charges and items of a personal nature · departure tax in Lhasa


Is it worth it?

believe this trip is excellent value. You are urged to compare the quality and duration of the experience relative to what is offered by other companies. There are no hidden expenses here and a lot of extras that you will not find elsewhere. I have been visiting Nepal and Tibet for a long time and know the value of unrushed travel using local guides who are personal friends. There is time on this journey to enjoy some very special parts of the world with someone who knows it well. I can guarantee experiences that will be treasured for a lifetime.

<!- other info?- - >

What other information do you send?
After registration I shall send pre-trek information including; a daily tour itinerary; detailed information about what you need to prepare and bring for this tour; a suggested reading list; information relating to health issues and vaccinations.


PERMISSIONS, times & other worries:


t is very necessary that prospective clients have some idea of the uncertainties involved with travel in this remote region. It is my view, that many companies underplay the difficulties of the region leading to conflict and unrealised expectations for their clients.

In particular it is important to understand the problems of finding and obtaining permission, to visit remote and uncommon sites. General travel permits are issued from Lhasa but the local authorities (police) make all the final decisions and their attitude varies from, at best, indifference to outright obstructionism! Local police usually do not know the locations, or if they do, will most likely give a negative response in response to a request to visit. There is no acknowledgment that tourists have paid large amounts to visit the region nor is there any tradition of service towards visitors from either the authorities or the 'guides' and drivers sent from Lhasa to accompany you. The latter group, guide & drivers, are largely concerned with avoiding any conflict with the police and keeping to well-established travel programmes rather than helping their foreign clients especially when those clients want to do things 'out of the ordinary.' In addition, there are the realities of remote location; the hardship of travelling for days on very rough roads; the possibility of washouts; and the rigors of living at 4500m for several weeks.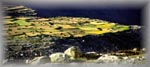 Over the years we have largely resolved these matters by using guides and drivers we trust; by having Sherpa staff who have worked with us for years; by establishing good relations with authorities in the region; and having a good grasp of the geography of the area. This sort of experience pays off. In 2002 and 2006 we were able to visit new regions, including those unvisited by foreigners for decades and we discovered painted caves that were previously unknown. Our long experience and our familiarity with the regional officals enabled us to achieve this. We would expect similar success in 2011 but, the rules in western Tibet can change in an unpredictable fashion, so having a flexible foreign guide and timetable is essential.

It is important to have sufficient time. I don't enjoy rushed travel. Most people will make only one journey to this remote region. It is therefore vital to structure the tour well so that there is time to enjoy the essence of each place. For example, we allow four days to walk around Mt Kailas; a full day at Toling; a full day at Tsaparang; three in the Shangba region; and two days at Dunkar - Piyang. You will find that most other companies have a much more restricted timetable. We also make time each day for local walks into the amazing landscape.

The above comments are a realistic outline of the situation in Western Tibet. The situation is made better if you travel with an experienced company and have a foreign escort who is familiar with these local problems. However, travel in the Ngari region always contains wondrous uncertainties! The difficulties are not insurmountable and, in fact, they can be fun - but to travel in Western Tibet does require a large degree of tolerance and flexibility as well as the necessary time and finances to make such travel possible.

Beyond all these difficulties is the reality of this glorious region and the marvels of its old culture. These joys far outweigh any possible adversities of the journey.


OTHER WEB INFORMATION:


e at Footprints have three other web pages about Western Tibet: its history, and its art. The region was very important in the development of Buddhism in modern Tibet and its heritage of painting is of world significance. We have tried to reflect this significance in the following:
[Note: If you are serious about taking a tour to western Tibet with our company I suggest you look at all these web sources.]

The Kailas: To the Navel of the World, is a detailed account of our 'Footprints' tour to this region. This page provides a general account of trekking and travelling in the Kailas region. [Footprints page]
other ART TOURS to West Tibet on the web:


s far as I can determine there is only one company, other than ourselves which offers a tour to Western Tibet which is specifically focussed on art.

YOUR RESPONSE?
If you have read this far you've got to be interested! The high plateau and open spaces of West Tibet and its art are quite, quite glorious. It is rare to be attracted to these subjects and even more singular to find a tour that points in those directions. For further information, or to express your enthusiasm, please send an email.
In the dust-filled valleys and low plains of our daily existence we have forgotten our connections with stars and suns; and therefore we need the presence of these mighty signposts and milestones to shake us up and arouse us from the slumber of self-complacency. Not many are there who hear the call or feel the urge to rise from under their thick blanket of petty self-interests, of money-making or pleasure-hunting, but the few whom the call has reached, and in whom the longing for greater things is still awake, form a steady stream of pilgrims who keep alive the traditions and knowledge of these sources of inspiration.


The Way of the White Clouds, Lama Govinda, Hutchinson, 1966



top of page&nbsp&nbsp site map&nbsp&nbsp contact us
Copyright © Footprints Tours Ltd
Programming & design by Green Kiwi Ltd
Last updated:06jul10

Footprints Tours, Ltd.
Box 7027, Nelson, New Zealand
email: john@greenkiwi.co.nz
web: www.greenkiwi.co.nz/footprints/

Phone: 64 3 548 0145
Fax: 64 3 546 6179