! - - - ma_right - - ->

<!- - manaslu trek- -> A round Manaslu...more than trekking
Sept - Oct 2008

revision25feb08
http://www.greenkiwi.co.nz/footprints/frames/ma.htm
PRINT VERSION

We shall take another group to Manaslu in 2008.
In our view it is the most varied of all great treks in Nepal.
A marvellous combination of different terrain and different peoples
in a remote and very beautiful regions. Our group will be small and
personally escorted by either John or Diane McKinnon.
This is trekking as it is meant to be!

This trek is now full.
There is a possibility that you could get a place
but at this stage we are accepting 'wait-list-only' enquiries.
Sorry about that! 22feb08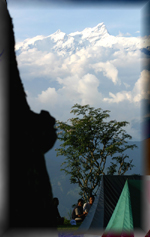 round manaslu is an exciting trek into a region, which until 1991, was totally 'off limits' to foreigners. In 1992 I took one of the first groups into this region and have repeated the journey almost every year since. In my opinion this is the most varied and interesting trekking routes of all I have done in nepal and it has the major attraction of visiting a region still little travelled by foreigners. This is remote trekking at itís best!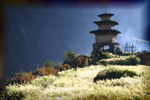 As with all restricted areas, the nepalese regulations only allow access if we travel with a registered trekking agency and pay a premium 'restricted area fee. These measures have been instituted by the Nepalese government to minimise the impact of tourism on areas considered to be culturally and physically fragile. This policy of minimising the impact and increasing the cost, maximises the return to the country. it is a scheme instituted by Bhutan and now successfully pursued by other Himalayan countries.



<!- plan- ->
Whatís the overall plan?


he trek circles behind Manaslu through Tsum and Nupri, crosses the 5135m Larkye La, traverses behind the Annapurana massif, over the 5416m Thorung La to Jomosom, from where the group fly to Kathmandu.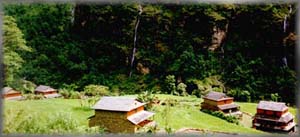 There are 32 days on trek compared to 29 on my Everest trek. The Manaslu region generally had been rarely visited by foreigners, even climbers. Upper Tsum was visited by trekkers for the first time on the Footprints trip in 1993.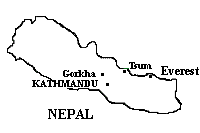 Tsum is an area high above the Shar Khola river. A broadening valley with stony fields, forests and flat roofed houses culminates in rolling hills fringed by sharp eroded pinnacles very characterisitic of Tibetan topography. By contrast, the Nupri region immediately north of Manaslu, tends to be more wooded, with rugged gorges and high mountains. Both areas are fabulously scenic with magnificent views of the Ganesh Himal and Manaslu massif.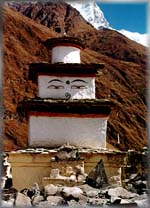 These remote regions have some demanding trekking so a reasonably high standard of fitness is needed to properly enjoy the experience. After Manaslu, instead of trekking south through the Marsyandi gorges the group continues behind the Annapurnas via the medieval town of Braga, over the Thorung La to the pilgrimage site of Muktinath and Jomsom. This extension has greater social and scenic interest and adds only four days extra.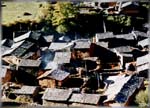 Because of it's length, passage through a restricted area, costs of a liason officer and internal flights it may seem expensive but, as always, I suggest you look at what is being offered and compare with what is available elsewhere. I can guarantee that it will be a quality experience. On our escorted trek, numbers are limited to a total of 14 and bookings will be made on a first-come basis .




<!- -why - -> Why Manaslu?


anaslu 8163m, seventh tallest of the world's mountains lies near the Nepal-Tibet border 100Km northwest of Kathmandu. A geologic boundary-marker, it's huge granite pyramid lies at the junction of the Indian plate pressing against the Tibetan sedimentary rocks of the Asian plate to create the Himalaya.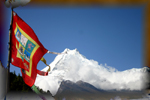 In 1952 it was recconoitered by the British climber and explorer Tilman who recognised it as a formidable climbing challenge. Four successive Japanese expeditions were unsuccessful until their final attempt in 1956. In accordance with climbing tradition it thus became known in mountaineering circles as 'the Japanese mountain'. The northern side of Manaslu is Trans-Himalayan, beyond the main chain of the Himalaya close to the Tibetan border. From a Nepalese perspective this is politically sensitive terrain, with very limited access even for expeditions. Hence not much is written outside the climbing literature. One notable visitor, the Tibetan scholar David Snellgrove raised my interest with his books 'Buddhist Himalaya' and 'Himalayan Pilgrimage' but it was not until the publication of the late Toru Nakano's 'Trekking in Nepal' that I obtained a real sense of the region's beauty.

My interest remained of the 'arm-chair' sort because travel to Manaslu was restricted. However in late 1990 the Nepalese government announced that conditional trekking would be permitted. I decided that 'Around Manaslu' would be an ideal destination for Footprints.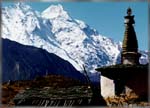 Decisions are not always accompanied by rapid action in Nepal and the political upheaval occasioned by the establishment of full democracy in 1991 slowed things down. Formal permission was obtained for the 1992 trekking season thus the Footprints group was the first to take advantage of this unique opportunity. The rules dictated that; travel would be permitted only in groups, organised by a licensed trekking agency with the group accompanied by a Nepalese Liason officer. Group travel was no problem as I have been taking parties trekking in Nepal since 1978. My Nepalese agent, Dawa Norbu was an old friend who worked in the trekking business since it's inception in the early 60's. Since his untimely death in 1997 his company Arniko Travel has continued to be run by his children. Arniko is reliable and highly respected. Taking a Nepalese Liason officer was not difficult as most are young police or army officers keen to associate with foreigners and to see more of their own country. Since the advent of Maoist problems in the region we are no longer accompanied by a liaison officer. As a result, we are neither more or less safe!

The Tibetan name for Manaslu is Pung-gyen which means 'a bracelet.' I have a love of Tibetan jewellery, especially the large chunky silver bracelets so this serendipitous name helped confirm my decision that a circumambulation of the peak was appropriate.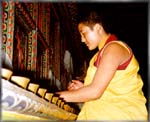 From my reading, researches in Nepal, discussions with Dawa and experiences on treks to Manaslu almost every year since 1992 I have developed an itinerary that I believe does justice to the region. Previous travellers with Footprints know that my trekking philosophy is to deviate off the main trail to places of interest, to capture the spirit of these remote high places and to provide plenty of rest days. Nepal with it's charming people and villages is too valuable to be rushed.


Such houses and such men, ragged, tough and cheerful, both alike reeking of juniper smoke, speak of high valleys upon the threshold of high mountains.
H.W. Tilman in the Marsyandi Valley,1949

How do we travel in Nepal?


he trek to Manaslu is more abrupt and rigorous than other treks I take, however these previously drafted comments apply to all walks in the Nepal hills...... The middle hills of Nepal are beautiful in their own right. There is always plenty of agricultural activity and village life largely untouched by tourism. The remote and medieval are still there if you know where to look. I design the trek to avoid the crowds and, for those who wish, to discuss the issues.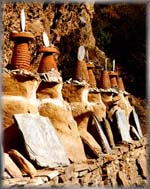 An approach march gives time for your body to adapt to height and means you are more fit to enjoy time at high altitude.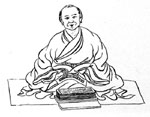 Secondly, the gradual approach creates an air of anticipation which develops the closer one gets to the high mountains. I find this more emotionally satisfying. The days are not long however, usually five to six hours of walking, starting and finishing early with lots of time for rests and lunch. However, as you walk up a seemingly endless hill there is opportunity to reflect on Lord Buddha's first noble truth, that suffering exists! Apart from fitness, the most important attribute is right attitude.


Naturally enough, geography suggests the best route for this trek to Manaslu. Although we are not formally on pilgrimage, any trip to the Himalaya has elements of a spiritual journey. For Manaslu, in a remarkably non-Buddhist way, we shall trek around the mountain in an anticlockwise fashion! (Traditionally Tibetans always walk clockwise around monuments. This is so they may follow in the footsteps of the Buddha. By contrast, adherents of Bonpo, Tibet's old religion, walk anticlockwise to meet the Buddha head on. We shall truely be trekking in the Ancient Way!).
A five hour drive west from Kathmandu brings us to the town of Gorkha, homeland of the famous soldiers and Prithwi Narayan Shah the 18th century warlord who set out from here to conquer and unite modern Nepal.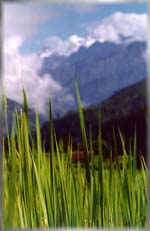 We head directly north into the gorge of the Buri Gandaki river described by one authority in glowing terms........."the four days in the gorge is longer and more intimidating than most trans-Himalayan gorges"!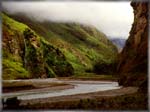 Hopefully not too intimidated, we ascend out of the gorge with it's spectacular waterfalls into the region of Tsum. Inhabitated by people of Tibetan stock they farm potatoes, buckwheat and blazing red-yellow amaranthus in diminuitive fields.
Over several days we traverse most of this area to visit villages and temples topped by towering views of Ganesh Himal. We traverse west, through high valleys and isolated yak pastures to Nup-ri, 'the western mountains', with simply amazing views of Manaslu 8163m and it's companion Himal Chuli 7893m.
The country is irresistibly photogenic. Busy trade with Tibet over easy passes created former prosperity in this region as essential salt was carried south to middle Nepal, and even India, while grains and manufactured goods headed north. Trade is less flamboyant now but we are there at the right season, with a chance to see yak, sheep and donkey caravans grunting along with their loads, herded by shanghai-weilding youngsters. We shall have plenty of time to explore and acclimatise before crossing the Larkye La (pass) 5135m. A substantial drop in altitude takes us through an incredible range of Himalayan forest types to the Marsyandi river.

Now in the valley of the Marsyandi behind the Annapurna group mountains, the scenery and culture change once again as we join the main circuit around Annapurna.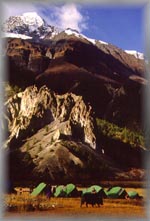 I know this Nyeshang region sufficiently well to have sorted out the best local trails and campsites that are off the more general trekking route. There is extensive pine and rhodendron forest in the lower valley with more sparse vegetation and spacious landscape as we climb towards the Thorung La at 5415m our highest point on the trek.
The sculpted village of Braga with it's organic architecture always delights me as do the amazing shapes and coloured landforms of the upper valley. In the Marsyandi and Kali Gandaki valleys there is surprising architectural and racial variety as well as fresh apples and ancient fossils.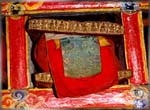 Near trek end we visit Muktinath, famed pilgrimage site for both Hindus and Buddhists. Here you can see such miracles as burning water (natural gas) and match your footprint against that of the illustrious sage Guru Rimpoche (Padmasambhava), revered by all people of Tibetan stock for bringing Buddhism to Tibet and the Himalaya.
Since Tsum, for the past twenty days we have followed his path on unconscious pilgrimage through this high and holy land.
...Then one morning we would find the snow-clouds passed away, and see the great peak of Chumalhari emerging calm, strong, and irresistible from out of the mass of cloud still tossing wildly round its base... and above it lay the calm blue sky, illimitable in its restfulness and light - a sky of bright and liquid azure, through which one seemed able to pierce right into heaven itself.
Sir Francis Younghusband
India and Tibet, London 1910


From nearby Jomsom we fly to Pokara and Kathmandu. Our mountain sojourn is at an end.
What about the weather?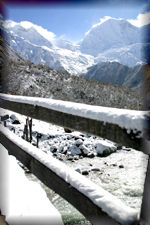 e shall be traveling at the preferred time for the Manaslu region. At this time the Trans-Himalaya is usually a region of intense blue skys, hot sunny days and cold nights. As in any mountain region, rain and snow showers can occur at any season. This post-monsoon season rarely has significant snowfall, but in 1997 our group had to abandon our crossing of the Larkye La because of heavy snow which blocked the pass for three weeks.
In 2004 we had ten centimetres of snow the night before crossing. The next day however the weather was perfect for our trek over the Larkye. On the five other years I have made this crossing there have not been any problems with weather.



<!- - itineraries & costs- -> Itineraries and prices
<!- -links to various itineraries - ->

<! - - land only group- ->

Land only group


hose who wish to travel elsewhere in Asia or travel on to Europe may prefer this option. It includes all accommodation in Kathmandu with breakfast; Kathmandu tours and other activities as for the main group; as well as the trek costs, park and trek fees and local flights.
N.B. If you choose the land-only option please organise your air travel early. Flights to and from Asia are very heavily booked. I am happy to help with suggestions and flight bookings if you wish.
<! - - table land only - ->
Around Manaslu
Land Only ex Ktm.
16 Sep - 25 Oct 2008
39 day trip
6 nights in Kathmandu (3+3) ...this could be (3+2) if convenient to you
32 days trek in Nepal
US$4709 was the final price for 2004

(note: In 2008 the price is likely to be similar)

Please note: A final price for 2008 will not be available until early 08. I reserve the right to make changes should major movements occur in currency or airfares.

Main group
<!- - table main group - ->
Around Manaslu
Main Group ex NZ
15 Sept - 27 Oct 2008
43 day trip

6 nights in Kathmandu (3+3)

Thai schedule changes make these return- nights in Kathmandu and Bangkok necessary

2 nights in Bangkok (1+1)
32 day trek in Nepal
NZ$ 9,753 ex Auckland was the final price in 2004
(note: the price is 2008 is dependent on exchange rate)

different prices apply from other NZ cities

here is an option to spend two days at this park when we fly from Jomsom to Pokhara. From Pokhara the Chitwan group will drive for about three hours then raft to Chitwan.
On the Southern border of Nepal is lowland forest, natural home to tiger, elephant, rhino, gharial (the fresh-water crocodile),many deer and myriads of lovely birds. Wild elephants are no longer there but in this park you can ride their domesticated cousins to see the wildlife. There are several resorts in this park. I prefer Island Jungle Resort for several reasons. It's in an area of the park where the wildlife are less disturbed; they have their own elephants for guests and the tented accommodation is comfortable. This Terai region is a very different part of Nepal. I recommend taking the rafting option to reach Chitwan it is pleasant way to start enjoying the lush world of the Terai. .

<! - - tablechitwan option- ->
Chitwan with Around Manaslu

Land + Chitwan

Ktm to Ktm

16 Sept - 26 Oct 2008
44 day trip
5nights in Kathmandu (3+2)
2 nights Chitwan with half day rafting
US$ add about $200

depends on exchange rate

Main + Chitwan

ex New Zealand

15 Sep -28Oct 2008
44 day trip
5nights in Kathmandu (3+2)
2 nights Chitwan with half day rafting
2 nights Bangkok (1+1)
NZ$add about $400
(note: the price is 2008 is dependent on exchange rate)
Different prices for other NZ cities
Please note: A final price for 2008 will not be available until early 08. I reserve the right to make changes should major movements occur in currency or airfares.


<!- -get what?- - >

What do you get...and, what you don't get?
For all groups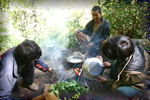 A personally guided introduction to some fabulous people and places with me! ∑ 1st class twin-share accommodation in all cities ∑ full breakfasts in Kathmandu and Bangkok ∑ one half day tour in Kathmandu ∑a celebratory group dinner in Kathmandu ∑ all transportation within Nepal, including flights ∑ trek permit, visa extension, Annapurna Conservation Area fee ∑ all meals while on trek ∑ two person tent accommodation on trek ∑ use of down jacket, sleeping bag, kitbag, 'Thermarest' and padded mat on trek ∑ porters to carry all personal gear ∑ porter insurance ∑ comprehensive group medical kit . all special permit fees for entry to Manaslu restricted area



The following applies to Main Group only
Return economy airfare from Christchurch, Wellington or Auckland to Nepal ∑ arrival visa in Kathmandu ∑ airport transfers ∑ departure taxes in Bangkok & Kathmandu ∑ baggage handling on arrival and departure in Bangkok & Kathmandu



The following applies to Chitwan option
half day rafting ∑ two nights at Island Jungle resort with all meals ∑ transport to Chitwan and return to Kathmandu



What you don't get
NZ departure tax ∑ meals unless stipulated ∑ personal insurance and medical expenses ∑ emergency evacuation charges (covered by appropriate medical insurance policy) ∑ excess baggage charges and items of a personal nature


<!- -worth it?- - >

Is it worth it?


believe this trip is excellent value. You are urged to compare the quality and duration of the experience relative to what is offered by other companies. There are no hidden expenses here and a lot of extras that you will not find elsewhere. I have been visiting Nepal for a long time and know the value of unrushed travel using local guides who are personal friends.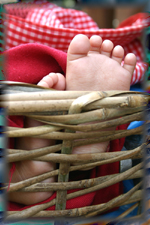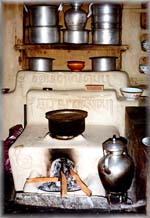 an impeccable kitchen.

There is time on this journey to enjoy some very special parts of the world with someone who knows it well. I can guarantee experiences that will be treasured for a lifetime.


.....if this one day in the lifetime of a hundred years is lost,
will you ever get your hands on it again?
Eihei Dogen (1200-1253)

<!- - bottom- - ->

If timing for this trip does not suit, please email your wishes and we shall look to provide a similar tour at a later time.
If you would like us to arrange this tour for your own independent group check out what we offer.
top of page&nbsp&nbsp site map&nbsp&nbsp contact us <!- - copyright details- ->
Copyright © Footprints Tours Ltd
Programming & design by Green Kiwi Ltd
Last updated: 25feb08
Footprints Tours, Ltd.
Box 7027, Nelson, New Zealand
email: john@greenkiwi.co.nz
web: www.greenkiwi.co.nz/footprints/

Phone: 64 3 548 0145
Fax: 64 3 546 6179