! - - -np_right - - ->

<!- -FLOWER FIELDS- ->

revision 08aug06

http://www.greenkiwi.co.nz/footprints/frames/np.htm

Having

problems printing

this page?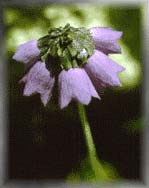 Flower Fields of Annapurna


ifteen days magical trekking amidst the monsoon flowers and high mountains of Nepal. An internationally recognised alpine-botanist accompanies the group. (can be combined with 'Highlands of Mustang')


<!- -MUSTANG- ->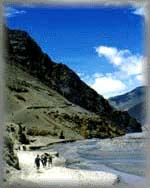 Highlands of Mustang


owards the beginnings of time....a twenty day trek to the remote kingdom of Mustang where Tibetan culture remains undisturbed......and the bones of mountains lie exposed amidst ancient sea-beds. (can be combined with 'Flower fields of Annapurna')


<!- -MANASLU- ->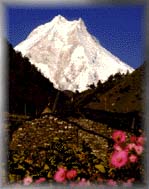 Around Manaslu


trek of great variety through rice-paddy and spectacular gorges to the remote monasteries and virgin forests of Trans-Himalaya. And above, the seventh highest of this world's mountains, Manaslu. Thirty-two days of magnificent trekking. Nepal trekking does not come any better than this!


<!- -RHODODENDRON- ->

he foothills of the Everest region contain some of the most unspoiled natural rhododendron forests in Nepal. This twenty eight day trek visits rarely travelled regions.



<!- - copyright details- ->
Copyright © Footprints Tours Ltd
Programming & design by Green Kiwi Ltd
Last updated:08aug06