! - - - vh_right - - ->
<!- -valley of happiness- ->Valley of Happiness

revision 18 Mar 2001
http://www.greenkiwi.co.nz/footprints/frames/vh.htm
Having problems printing this page?
After May 2000, we shall run this tour only by special request.
We have now taken two groups into this very unique region.
If there is sufficient interest from four or more people
we would love to run the Kyirong tour in the future.
Please email us expressing your interest
his region has only very recently been open to foreign visitors. In March of 1999 we took a group into the region, the second-ever that had been into the valley. Many locals that we met had not seen western people. It was like stepping backwards in time to a region that had changed little for hundreds of years.
As a result of our experiences, we have improved the itinerary and will take the tour again in 2000. Those who register for the tour will be sent a detailed information, maps and reading list to prepare them for the journey.
<!- -introduction - ->

INTRODUCTION

solated behind high mountains on the southern boundary of Tibet there is a valley of surpassing beauty. A place for poets, encountered by only a few explorers. A thousand years ago, it was here that Milarepa was born and lived. Tibet's beloved poet and mystic, sang his songs from cliffside retreats that still resonate with his presence.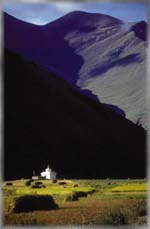 It is not without reason that Kyirong has been described as the 'Valley of Happiness.' This is a valley where giants of the Nepal Himalaya, Ganesh and Langtang, look down on a lush landscape of fields and villages. With an altitude less than 3,000m it is one of the lowest places in all Tibet, and a climate that is 'almost-tropical' in the minds of wind-swept Tibetans from their high plateau. With such beneficence it is not surprising that Heinrich Harrer, author of 'Seven Years in Tibet' said:

"I shall never cease thinking of this place with yearning, and if I can choose where to pass the evening of my life, it will be in Kyirong."


<!- -plan - ->

The General Plan

s to visit the Kyirong region of Tibet for three weeks in April-May 2000. We drive northwards from Kathmandu, up the gorge of the Bhote Kosi (Tibet river) onto the Tibetan plateau. We shall explore the nomad regions around Pelku Tso lake, before crossing the high, and spectacularly scenic, Jakhyugn La (Hawk pass) to Kyirong and 'the Valley of Happiness'.
In the thirteen days that we are in the region there is sufficient time to explore side valleys with day-walks and more longer excursions. We shall trek into the Rap Nga valley where the icy peaks of Ganesh and Riwo Palbar rise sheer above a wooded valley; traverse narrow ravines with hermit caves carved into the walls; and visit monasteries perched on pinnacles of impossible steepness!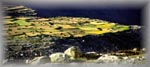 This is a region little travelled by foreigners since the time of Harrer; villagers will be busy planting potatoes, buck-wheat and barley for the new season; on the hills above, herds of yak graze beneath the ice-summits of Ganesh and Langtang; and in the temples lamps are lit each day as they have been for over a thousand years. Returning towards Nepal, we have two days to explore the region of Everest Base Camp. Here, immediately beneath the rocky slopes of the world's highest mountain we shall pay our respects at the famous monastery of Rongbuk.
This is a short driving tour to an accessible and magical part of Tibet.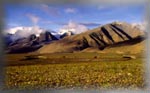 It features, short walks into the side valleys of Kyirong and visits to isolated villages and monasteries where foreign visitors remain rare. There is time to acclimatise, to walk, to relax and to experience a genuine taste of Tibetan life.


The Tibetan nomads....look like bandits with their swords tucked into their belts, their long unkempt hair, and their heavy wool and leather garments. Unsubmissive and restless, they are free masters of the vast silences on the roof of the world. They are the only people I envy: they are unfettered, serene in their inborn essential simplicity, ignorant of illusory architectures which time wears down and blows away like dust before the wind. As they wander throughout those immense spaces they seem to be suspended between heaven and earth.
Journey to Mustang 1952
Giuseppe Tucci


For those who have trekked with Footprints around Manaslu in/to Tsum, the Kyirong Valley is just beyond the easy pass that leads past Mu gompa into Tibet. Those who have been trekking with our 'Rhododendron Rhapsody' group can carry on to Tibet as an option, or the 'Valley of Happiness' tour can be experienced of it's self.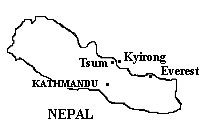 There is a total of three nights in Kathmandu and one in Bangkok before our return to New Zealand.


WHERE DO WE TRAVEL?
Into Tibet:

he highway curves from Kathmandu past green-paddy and red-bricked village to the hillside resort of Dhulikhel. That first night is to savour a wide panorama of Himalayan giants, a southern-preview of what we shall soon experience at close quarters. It is a slow and spectacular ride along the 'Friendship Highway' towards the border town of Zangmhu and the Tibetan Plateau.
Zangmhu perches on uncomfortably steep slopes, the town divided by a zigzag of single-width road snaking up.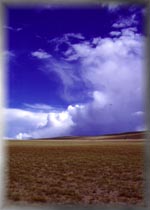 It's a squeeze, but usually the traffic jams here are not too troublesome. Beyond is a more serious obstacle. On a good day you can spit across this gorge and you may choose to try your skill where a wide area of slippage makes the road a precipitous track. Probably though, you will have only enough energy to be thankful that you can walk this section along with the hundreds of porters who trans-ship goods from trucks on either side.

Beyond the slip and almost with relief, the road widens, the valley broadens to become less vegetated and takes on the mottled brown habitus of Tibet.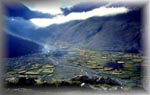 We are in a lovely settled valley. Stone walls define tiny fields which are being prepared for planting. Such farms are not common in Tibet. Mostly the country is too high to permit conventional agriculture. Here though, and in the Kyirong valley, are exquisitely picturesque villages, clear rivers and high mountains beyond.


It was the centre of the sky, The middle of the earth and the heart of the country. An enclosure of glaciers, the head of all rivers. High mountains, pure earth, an excellent country. A place where men are born heroes, Where custom is perfected, where horses grow swift.
Bon legend of Tibetan beginnings.
Kelly et al: Tibet . Reflections from the Wheel of Life


On the Tibetan Plateau:


he road switch-backs onto the open landscape of the plateau. Near the road, massive glaciers descend from Mt Shishapangma as we head to our lakeside camp at Pelku Tso. In 1999 on these sandy plains, we surprised a herd of kiang (wild ass) who galloped past our astonished selves, before vanishing into the hills. The Tibetan name for this lake, Lhatso Zitso, describes its kidney shape. It is one of the most beautiful places I have been. On two sides, jagged peaks spill their snow-waters abruptly towards the lake and on another, the ice-bulk of Sishapangma is silhouetted against the morning sun.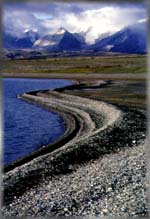 Sheep-herders graze their flocks along these slopes and from the campsite a curve of lake is seductive invitation to wander.
The road winds up through a spectacular gorge of rocks folded like soft pink-and-golden toffee to grind over the Jakhyung pass (5180m) and follow the Gyang Chu to administrative town of Dzonka. Sitting on a high plateau between the Sarong and Kyirong rivers Dzonka, called Kyirong Xian by the Chinese, is once again administrative town for the region. We shall visit, but not linger, preferring to camp in a nearby grassy valley. Here in a narrow defile are the cliff-homes of shepherds and farmers for countless generations.


Into the Kyirong Valley:


rom Dzonka the road runs down the valley to Kyirong Qu. The blue cockscomb of Ganesh Himal looms large on the right as we approach the beautiful village of Orma. Up a side valley is Tsarang, the birthplace of Milarepa, the region's noted saint and poet. We shall visit this and several of his pilgrimage sites, including the spectacularly sited Drakar Taso, 'Eagles-nest' hermitage.
We shall spend several days in one isolated valley where a magical combination of picturesque villages, wooded slopes, high mountains and ridge-top temples invites exploration.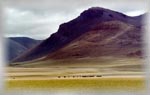 The lower Kyirong valley, grows barley, potato and wheat, crops impossible only a few kilometres further north. From here traditional trade routes here radiate south to Nepal, towards the isolated highlands of Tsum in the west and north to the Land of Snows. Despite tortuous gorges which separate it from Nepal, the region was once a flourishing centre of trans-border trade: mostly wool and salt from the north being exchanged for rice and manufactured goods from the warmer south. Political difficulties have slowed commerce, but the signs of old-wealth are still apparent.
We have thirteen days in this valley; thirteen days to explore an area inhabited for hundreds of years; an area where each village makes a tiny human scratch on the vast canvas of Tibet; there is history here and great beauty, rarely experienced by people from beyond.

To Rongbhu, Everest Base Camp and return:


n the northern side of Mt. Everest is Rongbhu Monastery. This region was famous long before early British expeditions to the mountain made it known to the west. The monastery, severely damaged during the Cultural Revolution, has been largely restored to become a pilgrimage stop for mountaineers en-route to the black slopes of Everest, just a short distance up-valley. This is the 'world's highest monastery.' We shall have two days to make our bows to the mountain before returning to Kathmandu.

<!- -plan - ->

Who was Milarepa?


n 1052 a child was born in this region who was destined to become celebrated throughout the Himalaya. Milarepa's biography, full of songs, humour and gripping tales became a source of countless ballads, folk opera and art. His life occupies a loved and enduring place in the Tibetan imagination.
There is no doubt that he was a genuine historical character with a personality that is both engaging and inspiring. In the latter part, his life expressed an intense devotion to religion, learning and asceticism. His beginnings were not so worthy.



Born to a wealthy farming family in Tsalang near Dzonka, his comfortable childhood was transformed when a wicked uncle dispossessed his widowed mother of her estate. Reduced to servitude by this uncle his mother was consumed with revenge. She encouraged the youthful Mila to sorcery and the black arts. With these magical powers he was able to kill not only wicked-uncle but all that family and a multitude of wedding guests as well! Not content with that, Mila'a mother roused him to destroy the crops and houses of unhelpful villagers. She then repossessed the household estates.
Overcome with remorse, Mila sought help from Marpa the renowned teacher of the Kargyu school. Marpa's training style for his new student was rigorous. He set Mila to build a nine storey tower, ignored any complaint and refused more conventional teaching. When the tower was completed Marpa ordered it pulled down. This cycle was repeated several times over the years until Mila was reduced to despair and contemplated suicide. Marpa relented, imparted formal teachings and the new Mila went off to commence a life of renunciation and meditation.
Rejecting the world of comfort and family life, for him the things to be celebrated were personal liberation and the glories of nature. He travelled extensively throughout the Himalaya, teaching and meditating in numerous caves. Generations of Tibetans followed his example of solitary meditation and multitudes of pilgrims visit the sites made holy by the saints presence.
In solitary, stony fastneses among the mountains there is a strange market, where you can barter the vortex of life for boundless bliss.
Mila Repa (1052-1136)


Returning in the latter part of his life to the Kyirong valley, Mila took up residence at 'the Eagles Nest', meditating there for twelve years. Moving to the 'valley of roses' north of Everest, he died at the age of eighty-four by knowingly taking poison offered by a jealous rival.
Usually depicted with right hand cupped to his ear and surrounded by animals who came to listen to his songs the presence of this sage still echoes throughout the region.
In the monastery of your heart and mind Lies a temple where all the Buddhas unite.
Mila Repa: Kelly et al: Tibet . Reflections from the Wheel of Life


What Else?


aks we will certainly see in plenty. My very favourite beast of burden Bos grunniens, the grunting cow, is everywhere in the high pastures at this season. Their formidable horns belie a sweet temperament and their dainty ankles a remarkable agility on mountain slopes.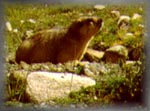 Hares, marmots and pika are smaller mammals that await the patient observer. Fox families are delightful but alas elusive and the magnificent snow leopard is now extremely rare in Tibet but, during the 2000 trek we found fresh snow leopard scat! Antelope and the wild ass, kiang are usually seen. Flocks of Snow Pigeons, Choughs and Crows fly noisily overhead, whilst soaring on updraughts, gliding in graceful curves around the cliffs are the solitary Himalayan Griffon and Lammergeier. These impressive birds can have wingspans of up to three metres, greater than the less common Golden Eagle.
The next day I saw the most curious animal. I was walking along and saw these very tall animals, like giants. They each had one leg that was brown, and they all stood together in a line. They also had many arms reaching in all different directions. And their hair was many little green circles. I asked, "Brother, brother, what animal is this? Are they sleeping?"

Dolma Choetso, age 7 on first encountering a tree

Journey Through Holy Lands, Tricycle IV,4
Kathmandu


he very first time I went to Nepal I was unprepared for the great beauty of the Kathmandu valley and stupendous art within the triple cities of Patan, Bhaktapur and Kathmandu. Kathmandu is a great and safe place to wander. Artisans over the centuries have adorned the city's temples and houses creating an open art gallery unlike anywhere else in the world.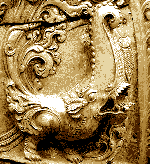 We have four days in Kathmandu to enjoy the crafts, taking the sights and delight in the myriad of different peoples who look and dress in their own distinctive tribal style.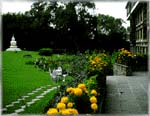 We stay at the centrally located Malla Hotel which is quiet and very comfortable, with a charming garden. Of all the Kathmandu hotels, the Malla has the best combination of location, charm and cost.


Bangkok


his city has a vibrant culture, superb architecture, friendly people, great shopping and amazing food. I really enjoy Bangkok, but it also has heat, humidity and horrendous traffic. At the Menam Hotel on the banks of the busy Chao Phya river you can relax or be as active as you wish.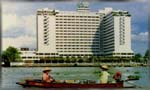 I have visited Bangkok many times and have developed the knack of enjoying this marvellous place. During the day we have there I shall organise personal excursions that can help you to enjoy it also.



Shopping


here is time in Nepal and Bangkok to shop. Nepal is especially great for handicrafts; carving, metalwork and jewellery, such as silver and semi-precious stones. There are excellent hand-knotted carpets (made with New Zealand wool) which are excellent buying. I shall give indications of costs and 'best buys' in the trek notes issued to people travelling on the tour. Bangkok has literally everything the world produces. Handbags and designer clothing are particularly attractive for Kiwis. Local markets are colourful, safe, have numerous 'finds' and are great fun.

<!- how difficult - ->

How Difficult is the Tour?


ot difficult at all providing one is reasonably fit. Age is no barrier if heart and lungs are healthy. Although this is not a walking tour, we shall walk on a daily basis in Tibet and several small treks of three to four days are contemplated. Day walks will be from one to five hours depending on interests of the group and individual fitness. These will be walks to visit nearby villages or monasteries, or for the sheer pleasure of being in an open landscape free of noise and pollution. It is desirable therefore to have a reasonable level of fitness and a good attitude towards walking. The more extended treks will be more demanding but are entirely voluntary. If you are uncertain as to just how you might function in these conditions please discuss the issues with me. Our travel in Tibet will be in efficient Toyota Land Cruisers and we shall camp each night in tents with comfortable mattress and sleeping bags. I am not enthusiastic about hardship and don't expect you to be either!
When you embark for strange places, don't leave any of yourself safely on shore. Be brave enough to live life creativly. The creative place is where no one else has ever been. You have to leave the city of your comfort and go into the wilderness of your intuition. You can't get there by bus, only by hard work and risk and by not quite knowing what you're doing. What you'll discover will be wonderful. What you'll discover will be yourself.
Alan Alda, addressing his daughters graduating class.
Mountain Record, Spring 97


What about Altitude?


have been taking trekkers to Nepal since 1978 and have never had anyone experience significant difficulties with altitude. The important things are to have gradual ascent, time to adjust, rest days, and someone who can recognise early problems. All these requirements are features of this tour or indeed, any Footprints trek.
Because we are travelling by vehicle on this Tibetan tour these comments are less pressing. It is a fact that there are less altitude problems when not vigorously exercising.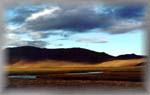 However, I have deliberately addressed the acclimatisation issue by scheduling two nights at Dhulikhel and Nyalam before we reach the more rarefied heights of the Tibetan plateau. These two nights will more readily establish acclimatisation than if we had proceeded directly to the Tibetan highlands. People respond differently to altitude however, so on this tour if someone is not acclimatising well, it is a relatively easy matter for one vehicle to return to lower altitude. It is highly unlikely that this will be necessary.

What about the weather?


n Spring snow covers the high mountains but the days are usually fine with little likelihood of rain. At this altitude it will be chilly and, as always in Tibet, there will be wind.

<!- -eat - ->

What do we eat?

ating is something that I regard as important for the whole tour. On trek the meals are substantial and wholesome to replace the energy lost on the trail. The cuisine is European with Nepalese overtones.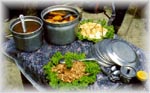 It can be as bland or as hot as you wish. During our time in Tibet we shall be accompanied by Sherpa staff from Nepal. Many of these men have travelled with me for years. They have a high standard to personal hygiene and integrity but fortunately, do not take the suggestions below literally!
But if one professes and practices living on the country one must take the rough with the smooth, rancid yak fat and frogs along with buckwheat cakes and rakshi.
H.W. Tilman: Nepal Himalaya, Cambridge 1952


In Kathmandu and Bangkok there is opportunity to be more adventurous. Both cities have excellent restaurants that are inexpensive by New Zealand standards. While on trek all meals are included. In the cities I make a feature of including only breakfast in the tour cost. It is my view that prepaid organised meals are usually inferior to hotel a la carte dining. In addition, organised meals do not give opportunity to visit local restaurants outside the hotel. Local restaurants are often more fun, have cheaper and better food, and give an opportunity to mix with the locals. Don't imagine that Asian food is invariably hot, there is plenty of restaurant choice in all cities.


<!- -people - -> How many people will go on this tour?


he minimum client numbers for this trip is ten, maximum fourteen



<!- -itineraries & prices- ->


Itineraries & Prices
<!- -links to various itineraries - ->

<! - - land only group- ->

Valley of Happiness, Land only group


hose who wish to travel elsewhere in Asia or travel on to Europe may prefer this option. It includes all accommodation in Kathmandu with breakfast; Kathmandu tours and other activities as for the main group; as well as the tour costs, park and trek fees, and visa charges for Tibet.
N.B. If you choose the land-only option please organise your air travel early. Flights to and from Asia are very heavily booked. I am happy to help with suggestions and flight bookings if you wish.
<! - - table land only - ->
Valley of Happiness
Land Only ex Ktm.
15 April to 10 May 2000
26day trip
3 nights in Kathmandu
21 days in Tibet
1 night Dhulikhel mountain resort
about US$ 3653
depends on exchange rate
(note: US dollar rate is approx.)
Please note: These prices are those for the 2000 trek.
I reserve the right to make changes should major fluctuations occur in currency or air fares.
What shall we tell you? Tales, marvellous tales, Of ships and stars and isles where good men rest, Where nevermore the rose of sunset pales, And winds and shadows fall toward the west.
The Golden Journey to Samarkand
James Elroy Flecker



<! - - valley of happiness table main group- ->

Valley of Happiness, Main group


Valley of Happiness
Main Group ex NZ
14 April to 11May 2000
27day trip
3 nights in Kathmandu
1 night in Bangkok
21 days in Tibet
1 night Dhulikhel mountain resort
NZ$ 9447

(note: NZ dollars)
ex Auckland, Wellington or Christchurch

hose who wish, might enjoy spending an extra three weeks prior to Tibet by trekking in Nepal to see the rhododendrons which flourish at this time of the year. This Rhododendron Rhapsody tour preceeds the tour into Tibet, the two groups coming together in Kathmandu.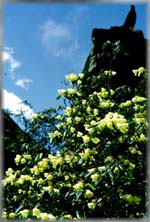 Accompanying this rhododendron group will be our expert Himalayan botanist W.R. (Bill) Sykes. Bill accompanied pioneering botanical expeditions to Nepal in the 50's. For the past six years he has provided expert support to my botanical tours of Nepal.
The thirteen day trek is not particularly difficult but you do need to have a good level of walking fitness both to participate and to enjoy walking through this lovely terrain. If you are uncertain about whether or not you can deal with the walking please get in touch with me.
The altitude throughout this trek never goes about 3000m. This perhaps sounds a lot if you live at sea-level, but very few people have difficulty at these heights. A bonus to those taking the rhododendron option is that they will be acclimatised for the more rarefied airs of the Tibetan plateau.
<! - - table rododendron option- ->
Valley of Happiness with preceeding Rhododendron option
Land only ex Ktm
30March to 10 May 2000
42 day trip
about US$5581

(note: US$ rate is approx)
ex New Zealand
28 March to 11 May 2000
45 day trip
NZ$13,159

(note: NZ$)
Please note: These prices are for the 2000 trek. I reserve the right to make changes should major fluctuations occur in currency or air fares.


<!- - valley of happiness lhasa option - - >

Lhasa option

hose who wish, may continue on to Lhasa after our visit to Kyirong and Everest Base Camp.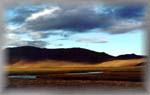 There is a five day drive from the Base Camp to Lhasa, visiting the magnificent temples of Shigatse and Gyantse before reaching the holy city, Lhasa. To more fully enjoy this historic part of Tibet I have allowed an extra night at Shigatse.
Finally, there are three days to explore Lhasa before taking a spectacular flight over Mt Everest to Kathmandu; with two days in Kathmandu to 'return to earth'!

<! - - table lhasa_vh option- ->
Valley of Happiness including Lhasa option
Land only ex Ktm
15 April to 17 May 2000
32 day trip
about US$ 4770
depends on exchange rate
(note: US$ rate is approx)
ex New Zealand
14 April to 18 May
34 day trip
28 days in Tibet
NZ$11,663

(note: NZ$)
Valley of Happiness
What do you get...and, what you don't get?
For all groups
A personally guided introduction to some fabulous people and places with me! · 1st class twin-share accommodation in all cities · full breakfasts in Kathmandu and Bangkok · two half day tours in Kathmandu · one half day tour in Bangkok · a celebratory group dinner in Kathmandu · all transportation within Tibet and Nepal including flights · all meals while on trek or tour including Dhulikhel resort · Tibet visa and all regional permits · all transportation, food and travel costs while on tour.

The following applies to Main Group only
Return economy airfare from Christchurch, Wellington or Auckland to Nepal · arrival visa in Kathmandu · airport transfers · departure taxes in Bangkok & Kathmandu · baggage handling on arrival and departure in Bangkok & Kathmandu

The following applies to Rhododendron option
assistance of an expert in Himalayan botany · two person tent accommodation on trek · use of down jacket, sleeping bag, kitbag, 'Thermarest' and padded mat on trek · porters to carry all personal gear · porter insurance · comprehensive group medical kit . all trek and regional permits.


Valley of Happiness
What you don't get
· NZ departure tax · meals unless stipulated · personal insurance and medical expenses · emergency evacuation charges (covered by appropriate medical insurance policy) · excess baggage charges and items of a personal nature.


<!- -worth it?- - >

Is it worth it?


believe this trip is excellent value. You are urged to compare the quality and duration of the experience relative to what is offered by other companies. There are no hidden expenses here and a lot of extras that you will not find elsewhere. I have been visiting Nepal and Tibet for a long time and know the value of unrushed travel using local guides who are personal friends. There is time on this journey to enjoy some very special parts of the world with someone who knows it well. I can guarantee experiences that will be treasured for a lifetime.


<!- other info?- - >

What other information do you send?


After registration I shall send pre-trek information including; a daily tour itinerary; detailed information about what you need to prepare and bring for this tour; a suggested reading list; information relating to health issues and vaccinations.


If timing for this trip does not suit, please email your wishes and we shall look to provide a similar tour at a later time.
If you would like us to arrange this tour for your own independent group check out what we offer.
top of page&nbsp&nbsp site map&nbsp&nbsp contact us <!- - copyright details- ->
Copyright © Footprints Tours Ltd
Programming & design by Green Kiwi Ltd
Last updated: 18 Mar, 2001